My first monograph, The Origins of Early Christian Literature was published with Cambridge University Press in 2021. I've been lucky enough to have it reviewed by several terrific scholars and to give talks on its ideas over the last few years-- and I wanted to find a space on this site to make those materials available all in one spot.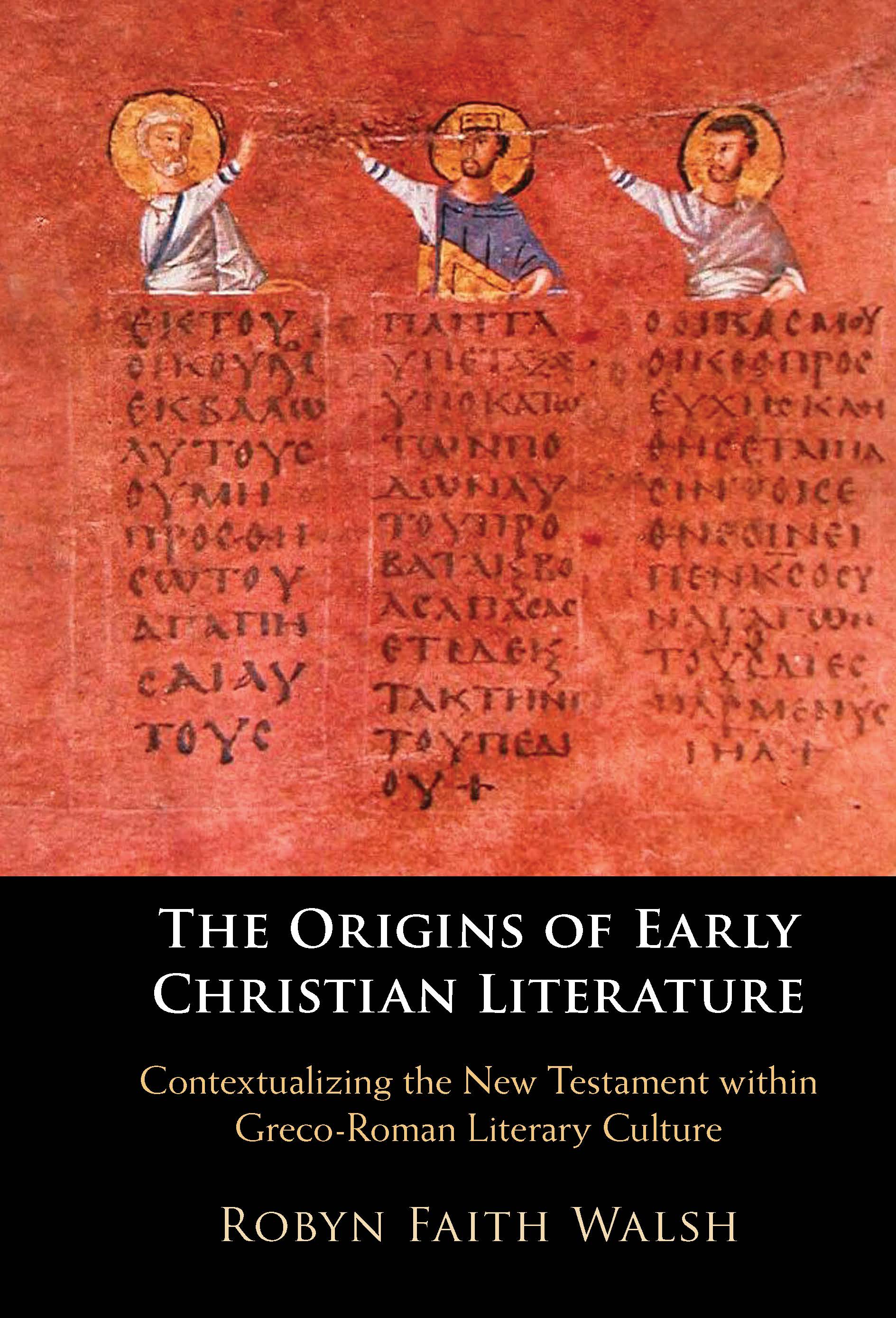 'This breathtakingly original excavation of the hidden ideological commitments of New Testament scholarship challenges many of the dominant assumptions about how and for whom early Christian texts were written. Walsh's lucid prose and polymathic command of classics, literary theory, and modern history is not only essential reading for students of the Gospels, but a field-shaking intervention in how we think about the production of early Christian literature in general.'
– Candida Moss, Edward Cadbury Professor of Theology, University of Birmingham

'The Origins of Early Christian Literature turns a century of New Testament scholarship on its head. Setting the gospels in their proper literary context, Robyn Walsh calmly dismantles naive, romantic notions that are immersed in an anachronistic 'oral tradition' paradigm. Lucid, provocative, and compelling, this book is essential reading for anyone interested in Christian origins.'
– Mark Goodacre, Frances Hill Fox Professor of Religious Studies, Duke University

'Scholars of New Testament and early Christianity usually assume unidirectional influence: the writers of the New Testament borrow from their cultural context, but do not really impact it. Walsh's analysis instead opens up the question of whether stories about Jesus were productive in a competitive market of story-telling, inspiring others to interlard resurrections and miracles into their own writing. She brings an impressively broad bibliography of ancient materials and contemporary conversations to her project. The book is interesting, rich with details from the texts of antiquity, and rich with knowledge of scholarship on them.'  
– Laura Nasrallah, Yale University
Book Reviews:
Richard Carrier, Robyn Faith Walsh and the Gospels as Literature (Jan 2023)
Ruben van Wingerden, Kerk en Theologie (Jan 2022)
Brent Nongbri, Bryn Mawr Classical Review (Sept 2021)
Zeba Crook, Studies in Religion/Sciences Religieuses (June 2021)
Featured Article:
"The Origins of the Gospels," Biblical Archaeology Review 48.3 (Fall 2022), 62-63.
Here are a few recordings of the appearances I've made to discuss the book:

I've also been lucky enough to have my book discussed favorably by some wonderful scholars, including Paula Fredriksen and Bart Ehrman:
And, finally, the book is now available in paperback!
Use the code below for a discount!